What is Takin' Charge Tuesdays?
Takin' Charge Tuesdays is a webinar series that will deliver targeted education to tackle relevant & timely topics, each session designed to help you improve. Sessions will run 10 am to 12 noon EST and will feature a supercharged, dynamic speaker who will share their wisdom & advice in a presentation format as well as an open Q & A period. Regardless of how many slips you have, boats you sell, techs you carry, or lines you offer these incredible educational sessions are designed to help you prepare for 2021 and beyond.
Pick and choose the sessions that'll best help you take charge of your business OR tune in to the whole series & save 10% when you grab a Four Pack! This virtual series is available Canada-wide, with Boating Ontario member rates extended to other provincial MTA members.

Thank you to our Title Sponsors!

No longer available!
Maybe it's time to take a step back and let others step up. Or maybe you're considering bringing in an investor and ramping up? Or perhaps you're even thinking of selling your business in the next few years?
Regardless of what you envision for your next chapter, there are four factors that will lead to a happy and lucrative exit from the day-to-day operations of your business. Skip one of the four things and you may regret it, like the 75% of owners who say they regret how they approached their exit after just one year.
John Warrillow, the international bestselling author of Built to Sell and founder of The Value Builder System™, will lead you through a journey of self-discovery which will help you define the second half of your business (and your life). Based on more than 200 in-depth interviews conducted for his podcast Built to Sell Radio (ranked by Forbes as one of their top five podcasts for business owners), Warrillow will reveal:
The four factors that lead to a happy and lucrative business exit
The "Happy, Rich or Famous?" paradox
The single most important trick to a satisfying exit
Five ways to maximize the value of your business now
One surprising test to evaluate how much of your ego depends on your company
The single biggest regret most owners have when they exit (and how to avoid it)
Don't miss this rare opportunity to ensure the next chapter of your life is everything you dream of.
Sponsored by: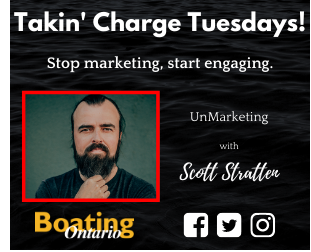 Recording Available!
The tried and true ways of marketing have turned into tired and old, not to mention ineffective. The ability to build relationships and be heard by your market has never been greater, but overwhelming when trying to determine what tools to use. This session covers both online and offline methods of staying in front of your target audience, so when they have the need to buy, they choose you. From social media, to traditional local events, there are proven ways to connect more than ever before and after this session, you have the practical tools to implement the tactics right away.
Click here to purchase the recording.
Sponsored by:

Recording Available!
Join us for this Takin' Charge Tuesday for a dynamic wake-up call from industry expert Sam Dantzler of Garage Composites. In his session, Sam will talk about the backside of our 2020 success, in terms of both Customer Satisfaction and Customer Retention. For the first time in 8 years, we've had a surge of first-time BOATERS. Unfortunately, our industry is having a tough time engaging them post-sale for a variety of reasons. In this session you'll learn how/why to re-engage them, thus keeping in the buying and boating cycle and retaining them as customers for life! 
Click here to purchase the recording.
Sponsored by:

Recording Available!
Wherever you look, it is becoming increasingly clear that to succeed in the future of work, we must realize our full potential as a team. In this presentation, Eric Termuende walks attendees through the current and future work environment and shares three one-degree shifts we can make to build better teams, establish deeper trust, and create an environment of belonging.
WHAT ATTENDEES GAIN:
Understand key shifts needed to transform teams that work into teams that thrive.
Harness real life employee experiences to tell a better story and attract the next generation of talent.
Revolutionize the job description to build a team capable of reaching its full potential.
Learn what to do to make your team and company stand out from the competition.
Understand how to proactively build a culture that is right for your people, not for those who shouldn't be there, and how to tell the difference!
Practical tools and takeaways to empower team members to be best they can be and lead experience creation at a team level.
Click here to purchase the recording.
Sponsored by: