MarineWorx, Working for you!
"Advancing Ontario's Marine Workforce"

Industry funded

Education focused

For all members

Of all sizes

In all markets

in all segments of our business
In January 2019, Boating Ontario presented $250 cheques to all students work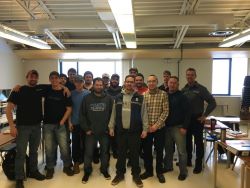 ing for Boating Ontario members attending the Level 3 Marine Technician program at Georgian College. Students were encouraged to put these funds towards the necessary tools to succeed in our trade.
Just one of the ways MarineWorx can work for you!
---
Why Become A Marine Technician?
MarineWorx Program and eligibility

Thanks to the support of industry, our objective is to provide a $2,000 transportation and / or accommodation bursaries (please note there are 5 available) for students taking the 8 month, MTME marine technicians program beginning in September of 2019 at the Georgian College - Midland Campus.  For further details on the program click below.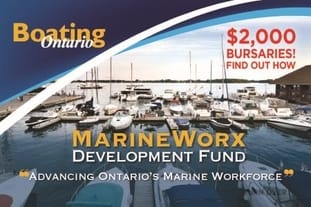 Student travel must exceed 100 KM distance from their home to the Midland campus and must be referred by a Boating Ontario member.
Making it happen is simple, any Boating Ontario member can refer a student, even if they are not working for the business yet. It is as simple as a quick email to Duane McKay or phone call 1-888-547-6662 with a students' name and contact info - before August 15th and the association along with a taskforce will take it from there.
Are you a student looking for a referral to pursue a career in the Marine industry?
Click here to find a Boating Ontario member near you.
---
Level 1, 2 & 3 Marine Technician
This curriculum standard for the Marine Engine Technician trades is designed down from the learning outcomes, which were in turn developed from the industry-approved training standard. The curriculum is organized into three levels of training, each including reportable subjects containing like or similar learning outcomes to reflect the units of the training standard. 
A maximum of 6 students per level working or referred by Boating Ontario members will be eligibile for $400 each.
For more information on the program use the links below.
Marine Engine Technician
Apprenticeship Training Standard (PDF)
Curriculum Training Standard
Level 1 (PDF)
Level 2 (PDF)
Level 3 (PDF)
Exam Counselling Sheet (PDF)
---