BoatON is back for the summer of 2021, this time with MORE contests and BIGGER prizes!
Starting June 19th @ 11am EST, you can send us your best boating adventure picture for a chance to win up to $250 to spend at any Boating Ontario member business!
Click here to read the Rules & Regulations of the 2021 BoatON Contest.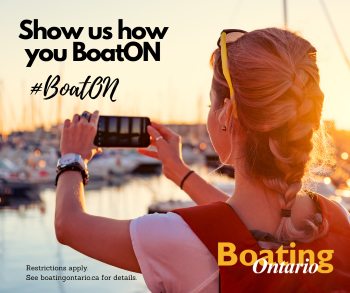 To enter: 
Follow us @boatingontario on Facebook, Instagram & Twitter

Like our most recent post 
Before submitting your photo, we ask that you read the Rules & Regulations for the 2021 BoatON Contest.
---
Looking for a Journey of a Lifetime? 
Look no further! The boating lifestyle can lead you to places you never thought you'd go & provide endless opportunities for making memories! Let us share our passion with you & send you downstream to places you'll never forget!
There are numerous ways of getting your feet wet when it comes to recreational boating; if you're not quite ready to dive right in, why not rent a boat from one of our members who are waiting to guide you on your next adventure? Ready to take the leap and begin your journey? Start by getting your licence and decide what type of boat is best for you to own.  Use the links below to guide you to your next steps. We look forward to seeing you out on the water!
Jump on in, the water is fine!