Whether Paddling, Fishing, Powerboating or Sailing - It's All Fun on the Water
The variety of boating destinations in Ontario is breathtaking! Whatever type of boating you choose, Ontario has something for everyone.
Boating creates fun-filled family experiences. In Ontario, you can experience our 250,000 lakes, canals, and countless rivers & bays that provide all boaters an experience of a lifetime. With one-fifth of the world's fresh water at our doorstep, boating in Ontario is truly incredible!
There is lots of information in our Go Boating section and we encourage you to explore and learn about the world of recreational boating in Ontario!
⇒ Paddlers: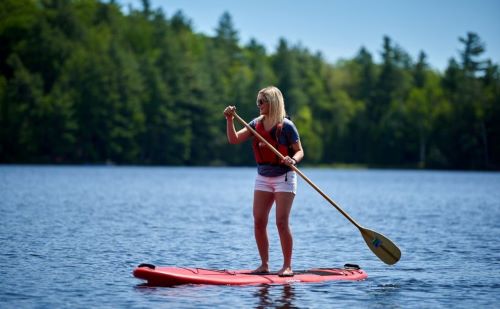 Paddling is ideal for all ages and abilities, and it is easy to try; find a local rental shop and take a lesson. You never even have to buy a canoe or kayak; rentals are prevalent across the province – including many marinas.
For more traditional boaters, you may want to strap a small kayak on a deck or stow away an inflatable paddle board so you can explore the intricacies of the next bay where you drop anchor.
Regardless of where you paddle, remember that safety always comes first. While you don't require a Pleasure Craft Operators Card, if you're going any distance, you should make sure you are with experienced paddlers, proficient at performing a self-rescue, and that you have the minimum safety equipment required by Transport Canada.
Want to plan a paddling trip?
We encourage you to start your planning with Ontario Travel - The Canoe Culture - an excellent resource for planning a paddling trip along Ontario waterways.
For additional information, visit Paddle Canada or National Paddling Week.
⇒ Fishing: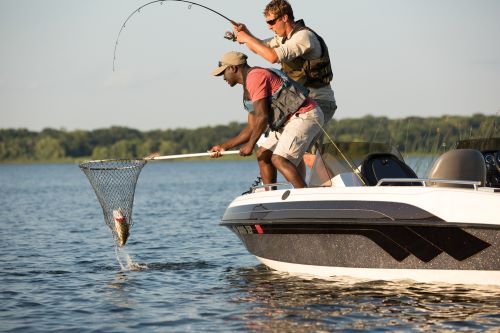 Ontario is known for its world-class freshwater fishing. Fishing is an activity that brings family and friends together and getting out on the water on a boat is one of the best ways to fish.
With a variety of species such as bass, perch, trout, pike, crappie, and salmon (to name a few), Ontario offers big-water options and countless smaller lakes and rivers, all providing a recreational playground for anglers. 

Accessing the water without a boat of your own is always an option. There are guided fishing trips or rentals in almost every corner of the province.
Always ensure you are prepared. There is safety equipment, fishing licenses, catch limits, gear, and best practices that you'll need to be aware of. Before you head out, please read up on the Ministry of Natural Resources for all of the regulations and licensing requirements for fishing in Ontario.
⇒ Power Boating: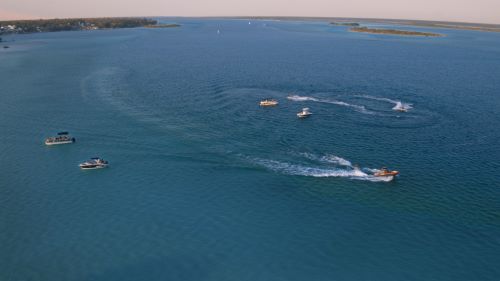 Boats bring family and friends together, or they can take you away from the entire world.
A powerboat lets you travel to some spectacular destinations, but the real joy is in the journey. Out on the water, a whole new world of experiences presents itself to you & your crew. The look of exhilaration on a child's face as they dive into the lake; the fiery sweep of a painted sky at sunset over a pristine, private cove; he thrill of riding out massive swells in the open water of the Great Lakes or surfing the wake behind you - this is the magic that awaits you on the lakes, rivers, and shores of Ontario!
Powerboats range from personal watercraft to large cruising vessels, ski boats, pontoon boats, houseboats & beyond! Determining what boat is right for you and your family depends on where you live and the activities you plan to enjoy.
⇒ Sailing: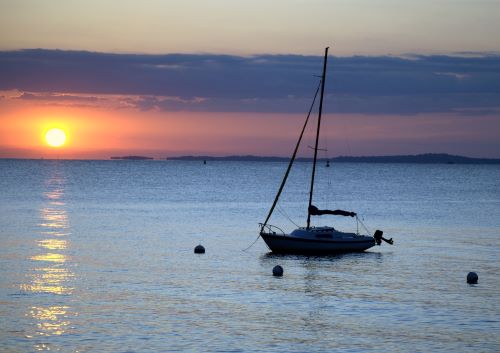 Sailing is a fun, safe, and affordable sport for all ages and abilities. There are many different ways to get started in sailing and you don't need to own a boat to enjoy the sport; there are clubs that provide boats and boat owners looking for crew. You don't need to be a member to get started in sailing as most programs are accessible for people who are not members of clubs.
 
There are different types of sailing for you to choose from.  
Social sailing – Is non-competitive participation that involves just going for a sail.
Cruising – A form of social sailing where a destination to sail to is selected.
Racing – A number of boats going round a course in a competitive structure. There are different levels of competition, from more social or introductory racing through to serious national and international regattas.
Ocean racing – A form of competitive sailing that takes place off-shore.
To learn more about sailing in Ontario, visit Ontario Sailing!