Training - Sales Basics
Sales Training page made available to Boating Ontario members.  On this site, you can find some great free MRAA resources related to the Sales Basics Courses as well as more information to help you decide if MRAA Membership is a good fit for your dealership.
SAVE $200 on MRAA Membership!
The Marine Retailers Association of the Americas is comprised of the membership and support of not only marine retailers but also many Partner Members who offer products and programs that help retailers continuously improve their businesses. Through MRAA membership, Retail and Partner Members gain access to the community of fellow members, a voice in Washington, D.C., and many programs, services, and products specifically tailored to our industry. 

As a retailer working in this industry, you know that the best solution to secure a healthy future for your business is to be proactive, rather than reactive. MRAA provides the timely information and tools your dealership requires to ensure a bright tomorrow.  Earlier this year Boating Ontario and American counterpart The Marine Retailers Association of the Americas launched a collaborative effort to expand the delivery of resources and tools across borders.  View the full press release here.
Have a sneak peek at the education platform that the MRAA has to offer.  Receive a $100 discount on your MRAA membership giving you access to over 100 education and training courses at mraa.com just for being a Boating Ontario member.  Open the door to great programs that keep your staff educated on the latest trends, cutting-edge strategies and best practices from dealership experts.  Boating Ontario is also excited to announce that our MarineWorx Development Fund will provide $100(CDN) to the first 15 Boating Ontario Association members who begin their education journey with MRAA programs.  Providing Boating Ontario members with a $200 savings on MRAA training resources!
Go here to get an excerpt from The Guide to Dealership Improvement.  Just one of many resources that members of MRAA gain access to.  Stay up to date with MRAA training at www.mraa.com.  View the latest news in free training here.
Gain access to a sneak peek at the FREE training that MRAA has to offer 
Buyer Motivation: The Key to Building Value.  It will provide a taste of what is offered through an MRAA membership.  Follow the instructions in the link below for MEMBERS AND NON-MEMBERS of MRAA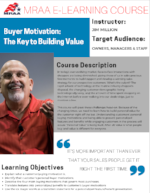 Have Questions about MRAA?
Contact Nikki Duffney for more free resources or to sign up for an MRAA membership today!
mraa.com | nikki@mraa.com
direct: (763) 333-2420
office: (763) 315-8043