The Boating Ontario Conference continues to be the only provincial industry-wide business conference for members of the Ontario Boating Industry.  Take advantage of 2 days of endless networking opportunities where ideas can be shared and industry experts provide learning moments that can help shape the future of our businesses and industry as a whole.  
We take pride in representing marina operators, boat dealers, brokers, and suppliers all across Ontario's boating industry and are committed to helping establish a sustainable and prosperous industry well into the future.
---
What are others saying about the Boating Ontario Conference?
 

 

 

"The Boating Ontario Annual Conference is the must-attend, once a year industry gathering for professionals from across the province to network, educate themselves on current and future industry changes & challenges, and to catch up with one another making our industry stronger as a whole. I strongly encourage anyone who has considered attending in the past to reach out for information regarding the conference and programs, and to attend."

- Peter Hart, 2019
"The Boating Ontario Conference provides a great opportunity to connect with our Ontario marine dealers, as well as other industry colleagues prior to the busy winter boat show season. The Boating Ontario team always puts together a program full of informative speakers covering trending topics, along with fun activities to network and unwind."

- Amanda Comission, 2019
 

"I am looking forward to the Boating Ontario Conference this year in Niagara Falls. The Conference agenda is geared to delivering pertinent and informative speakers and sessions focused on the trends, challenges, and future of our industry. A casual walk among the members at the Trade Show is an opportunity to renew acquaintances with existing suppliers and meet and learn of new products and services within our industry.

The assembled membership brings a wealth of knowledge, so the chance to network and learn from some of the most successful in our industry is reason enough to attend!

Hope to see you there…"

- Graham Lacey, 2019
"The Boating Ontario Conference provides exceptional value, we regard it as a can't-miss event.  Our Canadian Boat Show team attends every year.  We find it invaluable, even during our busiest season, pre-boat show!"

Linda Waddell on behalf of Canadian Boat Shows, 2019
"The Boating Ontario conference has always been at the leading edge of industry concerns, bringing in expert guest speakers, government agencies as well as technical leaders relating to our industry.  I also believe that some of the most valuable information, advice and assistance has come from networking with peers attending these conferences."

-Ryan Gibbons, 2018

The Boating Ontario Awards of Excellence are a celebration of success and an opportunity to recognize those who have made or continue to make significant contributions to Ontario's recreational boating industry. These prestigious awards are presented to organizations, businesses, and individuals that demonstrate outstanding contributions to recreational boating in Ontario.
We've made it easier than ever to nominate someone, with a quicker more streamlined nomination process
There are four distinct Boating Ontario President's Awards of Excellence:
W. J. Robertson Award recognizes an individual who has demonstrated a commitment to the advancement of and appreciation for the Boating Ontario Association.   
Gord Blake Visionary Award recognizes an individual or business who have made a significant contribution in the field of innovation or successfully leveraged an opportunity for visionary leadership within the boating industry.
Robert Eaton Environmental Award celebrates individuals and businesses who are dedicated to environmental responsibility and stewardship while contributing their time and resources to advancing their efforts in the Boating Ontario Clean Marine program.
President's Award recognizes an individual who strives for excellence and whose passion creates positive long-term impact to the boating industry.
Do you know a business or individual that deserves to be recognized?  
Download the relevant award nomination form above and send to Kayla Dewhurst at kdewhurst@boatingontario.ca
Congratulations to the 2019 recipients!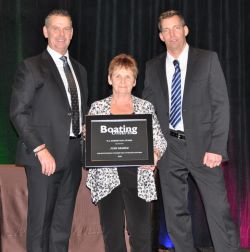 W.J. Roberston Award
Judy Semple,
Hutchings Marine Products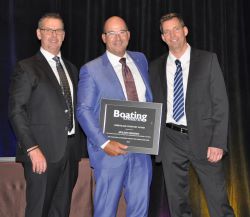 Gord Blake Visionary Award
Holden Rhodes,
Killarney Mountain Lodge & Sportman's Inn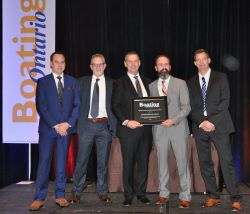 Robert Eaton Environmental Award
Outer Harbour Marina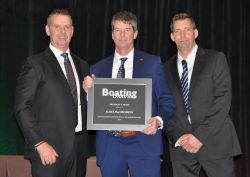 President's Award
Scott MacCrimmon,
Hucks Marine & Resort