Discover Freedom, Discover Boating
Looking for a way to disconnect from the stress of daily life? 
What's the big deal about boating? Why do more than 15 million Canadians participate in boating each year? Well, research shows that individuals experience emotional, behavioural and psychological benefits of being near, around, on or in water and while participating in water activities such as boating. With a seemingly endless supply of lakes, rivers & waterways within Canada, boating can take you places you could never imagine. In Ontario, the waterways alone are made up of 250,000 lakes and rivers providing the best Freshwater cruising in the world.
Boating is an every-Canadian sport; whether you are just starting out in boating or you have spent years exploring the waterways, there is always something for everyone with numerous options for getting out on the water. The best part? Boating allows you to disconnect from the everyday hustle and reconnect with more important aspects of life: family, health, and nature.
So, what are you waiting for? Now is the time for you to get out on the water & create memories that will last a lifetime. Boating memories are truly unforgettable and offer participants the ability to experience breathtaking nature, relaxation and invaluable time with family and friends.
Leave worries in your wake with Boating Ontario!
"Let a Boating Ontario member guide you on your next adventure on the water."
Find A Boating Ontario Member Here
Boat Safely from Port to Port
If you're a boater in Canada, you will want to download the free "Discover Boating Safety" app.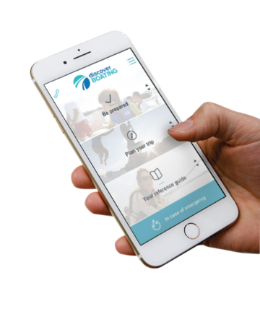 1. Be Prepared.
 2. Plan your Trip
 3. Reference Guide
 4. Just in Case of Emergency. 
The Discover Boating Safety app is a 'must have'. It takes care of all your safe boating needs before you leave shore. Best of all, the majority of this content is available on your phone whether or not you have cell or internet access.