Event Details
Registration is NOW OPEN!
Register before October 31st and take advantage of our Early bird pricing!
Members who are looking to purchase tickets for their spouse/guest to attend conference events please use member pricing when booking.
Boating Ontario's province wide industry event provides members of the Ontario boating industry with endless opportunities to network, share ideas, further their education and learn from industry experts. The program focuses on boating industry priorities identified by the members of the Boating Ontario Association and attracts over 300 industry leaders and key decision makers from across the province.
Boating Ontario takes pride in representing over 500 marina operators, boat dealers, brokers and suppliers in Ontario's diverse recreational boating industry.
We look forward to welcoming you to our third round at the beautiful Blue Mountain Resort in Blue Mountains, ON.
Let's join together and make memories out of moments!
#BOC2018
We are expecting a sold out crowd this year. Book now so you do not miss out!
Keep checking back here as the details roll in...
Arrival Day
---
Monday November 26th, 2018
Time:

Event:

Sponsored by:

3:00 - 7:00pm
Registration
5:30 - 7:00pm
Tailgate Dinner
6:30pm

Welcome Words

Government Acknowledgements

7:00 - 9:00pm

$5 Buck Bar

Exhibitor Extravaganza

9:00 - ???
Post Party - On Own
Day 1
---
Tuesday November 27th, 2018
Time:

Event:

Sponsored By:

7:00am - Noon
Registration
7:30 - 8:30am
Breakfast
8:30 - 8:45am
Welcome & Opening Remarks
8:45 - 9:45am

Opening Keynote:

Boat Businesses that have fun and get more done!

-Valerie Ziebron, VRZ Consulting

9:45 - 10:30am

Breakout sessions

1. Clean Marine

2. TIAO - Red Tape Challenge Report

3. Social Media

4. Hub International - Insurance Program

10:30 - 11:00am
Networking BREAK
11:00 - 12:30pm
Shirt Sleeve Session
12:30 - 1:30
Lunch/ Vendor Visits
1:30 - 2:30pm
Education Panel
2:30 - 2:45pm
What's up at Boating Ontario
2:45 - 3:00pm
Networking BREAK
3:00 - 4:00pm

Day 1 closing keynote:

Drop more PROFIT to your bottom line

-Valerie Ziebron, VRZ Consulting

4:00
Industry Cheer
4:00 - 6:00pm
Industry meetings
6:00 - 7:00pm
Gala Reception
7:00 - 9:00pm

Gala Dinner

Awards & Director recognitions

Entertainment

9:00 - ???
Post Party - On Own
Day 2
---
Wednesday November 28th, 2018
Time:

Event:

Sponsored by:

7:00 - 8:00am
Breakfast
8:00 - 9:00am
Boating Ontario By-Laws & AGM
9:00 - 9:45am

"A Conversation with NMMA on Tariffs, Market Expansion & Advocacy".

with - Sara Anghel, President NMMA Canada

& Nicole Vasilaros, Senior Vice President, NMMA Government Relations

9:45 - 10:30am

Breakout sessions

1. Social Media

2. Trade Meeting

3. Saving Employers Time & Money: Employment Ontario Initiatives

10:30 - 10:45am
BREAK
10:45 - 12:00pm

Engaging & Retaining Employees across the Generations

- Giselle Kovary, N-Gen People Performance Inc.

12:00 - 12:45pm
Cannabis Management : Employees & Customers
12:45 - 1:00pm
Closing comments
1:00
Lunch & Departures
Valerie Ziebron
President, VRZ Consulting
Valerie Ziebron is a leading marine industry expert and top-rated speaker. You may have seen her on the cover of Boating Industry, heard her speak at MDCE - or had her pop into your operation in seach of "Golden Nugget Best Practices" to help marine businesses get more proactive and profitable.
Valerie Ziebron started VRZ Consulting in 1989 and has since worked with hundreds of client - big and small to increase not only CSI and Profitability but also job enjoyment. She firmly believes that "Work that's fun, gets done!"
She has delivered thousands of presentations that educate, motivate and entertain. Valerie makes a special study of what business can do to "flip the switch from Reactive to Proactive" with the firm belief that to be profitable, you must be proactive.
Watch Valerie here to see what she is all about!
---
Sara Anghel
President, NMMA Canada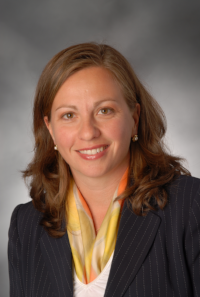 Sara Anghel President of the National Marine Manufacturers Association (NMMA) Canada has been with NMMA for more than 10 years. Anghel has more than 23 years of experience in the realm of government relations. She served in a number of political positions with the Ontario government including communications, policy and chief of staff to the Minister of Northern Development & Mines and Environment.
Since taking the helm, Anghel has raised the profile of the NMMA and of the recreational boating industry in Canada. Notable accomplishments at NMMA include the first ever annual Canadian Recreational Boating Statistical Abstract, securing more than $700,000 in government funding to support the industry and establishment of NMMA Canada's first Recreational Boating Day on the Hill in Ottawa where industry leaders meet with government officials to address key issues impacting the boating industry.
Under Anghel's leadership, NMMA Canada actively engages with the government on a number of important issues such as water access, trade and regulatory issues. The reinstatement of the hours of operation on two of Canada's historic waterways was a direct result of her leadership in unifying the industry's advocacy efforts.
Anghel furthers her involvement and commitment to the recreational boating industry by serving on a number of national and international industry boards including being Vice President of the International Council of Marine Industry Associations (ICOMIA) Executive Committee, Chairperson of the (ICOMIA) Statistics Committee. Vice-chair of the Ontario Region Recreational Boating Advisory Council (RBAC), Co-Chair of Transport Canada's National Recreational Boating Advisory Council (NRBAC). Member of the Board of Directors of the International Marine Certification Institute, the American Boat & Yacht Council (ABYC) and the Canadian Outdoor Caucus Association.
Anghel has an Honours Degree from the University of Toronto. Double Major: Political Science, Ethics, Society, Law and Minor in Philosophy.
---
Giselle Kovary, M.A.
President, N-Gen People Performance Inc.
As president and co-founder of n-gen People Performance Inc., Giselle is dedicated to building strategies and programs that help clients target, motivate and engage employees in order to increase performance and productivity. She is a sought after resource to industry leaders, having worked with 18 of the top Fortune 500 companies across North America. Over 60,000 people globally have experienced an n-gen workshop or presentation. With close to 20 years of experience in learning and development, she has devoted more than fifteen years to researching the impact that generational differences have on organizational performance.
Giselle has created solutions and programs in six practice areas – sales & customer service, leadership, team building, Millennials & Gen Z and human resources. She has co-authored two books: Loyalty Unplugged: How to Get, Keep & Grow All Four Generations and Upgrade Now: 9 Advanced Leadership Skills. As a human resources expert, Giselle is regularly quoted in national publications and appears on television and radio, including CBC, CTV News Channel and News Talk radio.
Giselle has a Master's degree in communication studies from the University of Windsor. She is a member of the Society for Human Resource Management and raises money for breast cancer research in her free time.
Why Sponsor the Boating Ontario Conference?
Sponsorship at the Boating Ontario Conference provides you with the opportunity to reach an enthusiastic and energized crowd of over 300 delegates. Our partners and sponsors are an important and highly visible attraction of the event and play an integral role interacting with the delegates. In return for their generous commitment of sponsorship, a range of benefits allow each partner to showcase their business/organization in several ways.
BENEFITS
Endless Networking with delegates while promoting your brand.
Actively participate in the many learning and educational opportunities during the conference.
Exposure through conference website & Boating Ontario e-newsletters.
On-site exposure to delegates during the Tailgate Reception and Exhibitor Extravaganza, Atrium and Huron Ballroom through displays signage, verbal recognition, and promotional material distribution
Raising the profile of your organization within the recreational boating industry
Capitalize on the Conference's gathering of key industry players and develop new business relationships
To learn more about sponsorship opportunities, or to book your Tailgate Exhibitor Extravaganza, space please click here or contact Ashleigh Andrews at aandrews@boatingontario.ca or call 1-888-547-6662 ext. 222
Support your association and book today!
BOC2018 delegates receive a discounted rate at Blue Mountain Resort. Book before October 25 to guarantee your delegate pricing and availability. Special conference rate is available for up to 3 days pre- and post- event.
Gain access to great rates using our promo code...
Click the link below for access to the promo code & booking instructions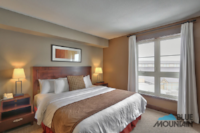 Booking Instructions & Promo Code
Not a member of Boating Ontario yet but are attending the conference? Please contact Ashleigh Andrews at aandrews@boatingontario.ca or 1-888-547-6662 to receive promo code
The Boating Ontario Awards of Excellence are a celebration of success and an opportunity to recognize those who have made or continue to make significant contributions to Ontario's recreational boating industry. These prestigious awards are presented to organizations, businesses and individuals that demonstrate outstanding contributions to recreational boating in Ontario.
We've made it easier than ever to nominate someone, with a quicker more streamlined nomination process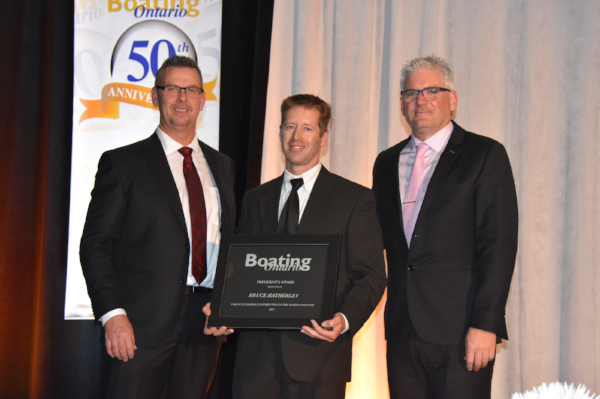 There are four distinct Boating Ontario President's Awards of Excellence:
W. J. Robertson Award recognizes an individual who has demonstrated a commitment to the advancement of and appreciation for the Boating Ontario Association.
Gord Blake Visionary Award recognizes an individual or business who have made a significant contribution in the field of innovation or successfully leveraged an opportunity for visionary leadership within the boating industry.
Robert Eaton Environmental Award celebrates individuals and businesses who are dedicated to environmental responsibility and stewardship while contributing their time and resources to advancing their efforts in the Boating Ontario Clean Marine program.
President's Award recognizes an individual who has demonstrated an individual who strives for excellence and whose passion creates positive long-term impact to the boating industry.
Do you know a business or individual that deserves to be recognized?
NOMINATIONS ARE NOW OPEN!!
Dowload the relevant award nomination form above and send to Ashleigh Andrews at aandrews@boatingontario.ca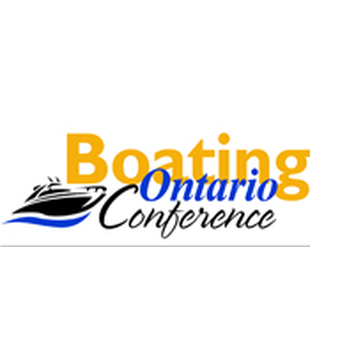 242 Jozo Weider Blvd, The Blue Mountains, ON L9Y 3Z2, Canada