Did you know?
New and young workers in Ontario are three times more likely to be injured during their first month on the job than at any other time. New and Young workers are of specific concern for the Ministry of Labour.  The Ministry continues to 'blitz' employers with young workers in 2019 and as an employer YOU are responsible for providing them with the knowledge and understanding that they need to work in a safe manner.  

The Boating Ontario Student Marine Safety Training Workshop offers members a discounted safety awareness training to ensure your employees are in compliance with the Ministry of Labour requirements each season.
UPDATED 2019
In this 8 hour training workshop, students will learn in both a classroom & practical setting and will cover the following subjects;
Customer Service
Occupational Health & Safety Awareness
WHMIS 2015
Gas Dock Operations Part 1: Classroom

Technical Standards and Safety Act (TSSA), Spill Response Awareness & Emergency Response Awareness

Gas Dock Operations Part 2: Practical

Spill Kits and Emergency Shut-offs, Fire Extinguisher Training, Life Ring Toss & Belaying a cleat exercise
Register below at a location near you and ensure your new or summer staff have all they need to succeed this season!
Saturday May 4, 2019       Port Dover Harbour Marina, Port Dover
Sunday May 5, 2019          Belle River Marina, Belle River
Friday May 10, 2019        Kingston Marina, Kingston
Saturday May 11, 2019     Hurst Marina, Manotick
Sunday May 12, 2019        Quinte Sports & Wellness Centre, Belleville
Saturday May 25, 2019     Payne Marine, Pointe au Baril
Sunday May 26, 2019        West Parry Sound District Museum, Parry Sound
Friday May 31, 2019          Outer Harbour Marina, Toronto
Saturday June 1, 2019      Spanish Municipal Marina, Spanish
Sunday June 2, 2019         Spider Bay Marina & Port of Little Current, Little Current
More dates & locations will be added as they are confirmed.  If you would like to host a workshop with a minimum of 10 people, please email Duane McKay for additional available dates.
To learn more about the Ministry of Labour Requirements use the Safety Road Map in the WSPS Small Business Centre by choosing the size of your organization.
Are You In Compliance?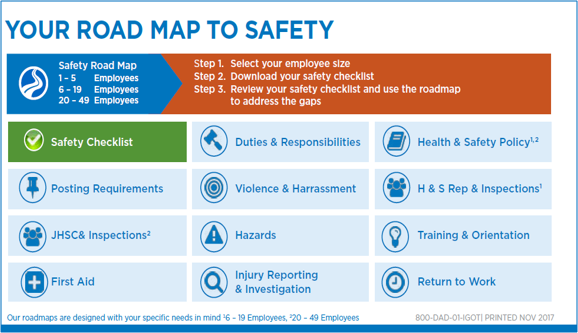 Choose the size of your organization and get your customized