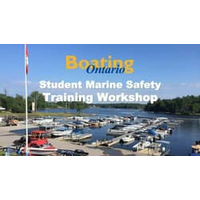 New and young workers in Ontario are three times more likely to be injured during their first month on the job than at any other time. New and Young workers are of specific concern for the Ministry of Labour. The Ministry continues to 'blitz' employers with young workers in 2019 and as an employer you are responsible for providing them with the knowledge and understanding that they need to work in a safe manner.
Boating Ontario is proud to offer members a discounted safety awareness training to ensure all your employees are in compliance with the Ministry of Labour each season. During the 2018/2019 winter season the training workshop received a makeover and we are happy to announce some new additions and updates to our safety training program.
The following 2019 dates have been confirmed with more to come!
Friday April 26 – Outer Harbour Marina, Toronto
Saturday May 4 – Port Dover Marina, Port Dover
Sunday May 5 – Belle River Marina, Belle River
Saturday May 11 – Hurst Marina, Manotick
Sunday May 12 – Quinte Sports & Wellness Centre, Belleville
Download the full press release for more details or visit https://www.boatingontario.ca/cpages/student-training to register.
---