Network With Other Businesses At The Annual Conference

The annual Boating Ontario conference gathers together the Ontario recreational marine industry for three days of workshops, keynote addresses and short sleeve sessions focussing on the issues most on the minds of Boating Ontario members.
But it's not all about work.
Boating Ontario takes this time to recognize those who have made a significant contribution to Ontario's recreational boating industry. The awards (Gord Blake Visionary Award; Robert Eaton Environmental Award; WJ Robertson Award and the President's Award), are presented to organizations, businesses and individuals that demonstrate outstanding
contributions to recreational boating in Ontario.
Janet O'Connell, Boating Ontario CEO noted in the 2016 Boating Ontario Conference program:
"The sessions this year speak to the changing consumer, diverse cultures and shifting demographics. We will explore how our industry can reach new audiences and the tools you can use to improve our business performance. Our concurrent sessions focus on issues that you face on a daily-basis and provide real learning experiences.

With our new format, we have provided a mix of learning, networking and opportunities to create dialogue on how we can continue to grow recreational boating in Ontario together."
Over the years, keynote speakers have included: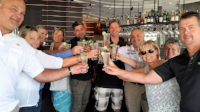 Boating Ontario members that have attended the annual conference year-after-year say that it is the best opportunity for networking with other businesses.
Rob Rule, President Maple City Marine said:  Often times I learn just as much from networking with my fellow marine owners. People you don't see all year long – some share with you the successes they had - maybe an event that might be useful for yourbusiness."
The Boating Ontario conference is a MUST for anyone who owns a business or works in the Ontario recreational marine industry.
Dates and location for the 2017 conference will right here as available. Click here to see events from the 2016 conference.
 
Mark Your Calendars for the 2017 Boating Ontario Conference. 
Join today and take advantage of member benefits
Boating Ontario provides critical and regulatory support, information, advice and direction; and practical, money saving programs for all aspects of your business.