Highlights From The 2015 Executive Summary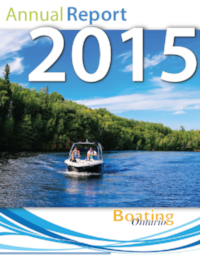 Each year the Boating Ontario Association prepares an annual report for its members. It's a detailed report on the work by the staff, Board of Directors and Boating Ontario committees. 
Below are excerpts from the 2015 Annual Report Executive Summary prepared by out-going President Richard Carroll. 
2015 saw major increases in boaters transiting the Trent-Severn Waterway and the Rideau Canal. Boating Ontario worked hard to convince the government to extend the hours on the canals and remove the traveling lock crews. The management of the canals did an excellent job promoting the canals this year with excellent results.
 
Convincing the Canada Revenue Agency to drop the HST audit on financial fees received by our dealers saved many Boating Ontario members a great deal of money.
 
The Boating Ontario insurance programs continues to grow making it now the largest insurer in Canada of recreational marinas.
 
The Boating industry continues to face a challenge encouraging young people to enter the recreational marine industry. Boating Ontario is working closely with Georgian College to help recruit students for the marine programs. Apprenticeship training is also an area that requires member involvement.
 
The Clean Marine program celebrates its 20th Anniversary this year with a special meeting at the 2015 Annual Conference. Representatives from Ontario, British Columbia and Quebec will be on hand. Special awards will be made to marinas from each province and individuals who have made a significant contribution to Clean Marine.
 
Your investment in Canadian Boat Shows Inc continued to produce excellent results last year with all exhibitor space sold out. The show provided over 200 seminars for the public. As the largest indoor boat show in North America the show continues to attract all of the major boat manufacturers in the business. Management of the show continues to seek new ways to attract new boaters to boating. Boating Ontario also works closely with the Discover Boating program to promote recreational boating in Canada.
 
To download the Boating Ontario 2015 Annual Report, click here 
The Boating Ontario Association  will continue to represent your interests. It is important that all members support the association so that it can speak with one voice for the recreational boating industry and all Boating Ontario members. 
 
JOIN NOW | Member Types and Fees: $599 plus HST
Join today and take advantage of member benefits
Boating Ontario provides critical and regulatory support, information, advice and direction; and practical, money saving programs for all aspects of your business.